FastestVPN Review- Why is it so Competitive?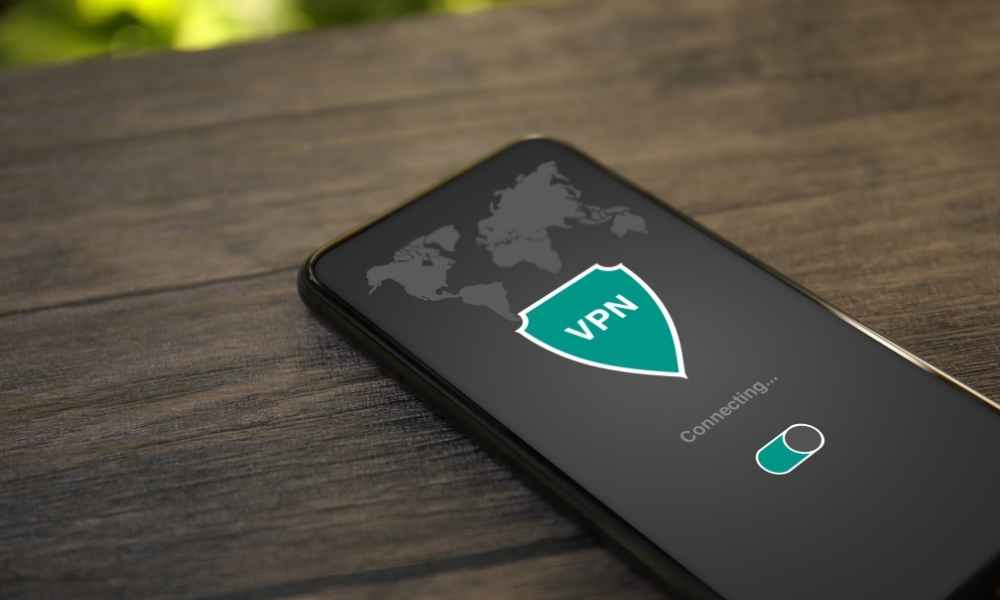 The Internet is becoming a crucial part of people's lives around the globe. It has now become an addiction for us. Wherever we go, all we want is to have a Wi-Fi connection, so when we find public Wi-Fi, we quickly connect without giving it a second thought. Connecting to public Wi-Fi is like handing over your private data to a hacker because a hacker on the same network can easily invade your device. I know it is making you feel insecure but don't fret. I am here with the intent to help you.
FastestVPN is the one that completely encrypts your data and acts as a shield against privacy attacks whenever you are connected to Wi-Fi. Governments allow Internet Service Providers (ISPs) in their country on the condition that ISPs have to provide activity logs of their users. So, agreeing to the terms and conditions of ISPs means that we have given them the privilege to hand over our logs to the government whenever they want.
Need a way to keep yourself protected from the intruding eyes of ISPs?
FastestVPN offers you that way as they are based in the Cayman Islands. You're probably thinking about what makes this place so special that I'm mentioning it. VPN providers based in the Cayman Islands are not bound to provide activity logs, as these islands are free from international surveillance. FastestVPN also guarantees that your logs will not be stored, which gives you a feeling of safety.
| | |
| --- | --- |
| Pros | Cons |
| One of the most affordable VPNs in the market | Lack of WireGuard protocol |
| Numerous US Server | IPSec is only available to mobile phone users |
| Helpful and fast customer support | Need to maintain speed consistency across servers |
| Equipped with all the indispensable security features | |
| Offers a range of VPN protocols | |
| Has apps for Android, Windows, Mac, Browsers, and Firestick | |
Performance & Speed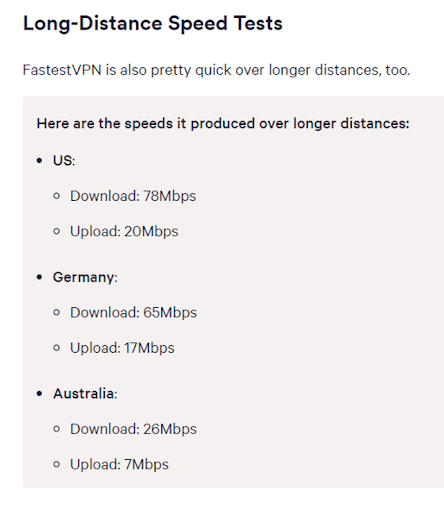 One of the paramount aspects when deciding on a reliable VPN is speed. You don't want the VPN to make your connection slow. Yes, they include the word Fastest in the name, but in my opinion, it is more like a marketing strategy. What I actually experienced, FastestVPN managed to deliver very fast speed; however, this was not the case for all servers. The inconsistency in speed happened, especially when connecting to a long distant server. But, overall its long-distance server speeds were not that bad and you can check that in the above screenshot.
Extensive Range of Server Locations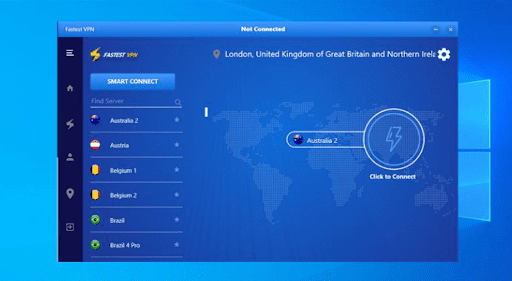 However, FastestVPN is relatively new compared to other players, but they established their network at blazing fast speed. As of writing, FastestVPN offers servers in 40+ countries where the US is standing tall with the most number of servers.
Security Features
Alongside price, FastestVPN offers some top-notch security features to stand proudly in this competitive market.
AES 256-bit Encryption
It is also called military-grade encryption and is impossible to crack with today's computing power. So you can assure yourself you are in safe hands.
No log policy
FastestVPN operates from cayman island, which has privacy-friendly rules. Thankfully it doesn't come under any surveillance corporation like 5/9/14 eyes — an international corporation established to share users' data with the partnered governments. This means they are not bound to record and store the user's online data. That is why I have confidence in their no logs policy.
P2P torrenting
Fortunationaly, all of the FastestVPN servers have built-in p2p capabilities; that's why you can download torrents while connected to any server. But keep in mind that using it will slow your speed a bit.
Smart connect
FastestVPN app has a Connect button available which is really smart as its name signifies. When you hit the Smart connect button, it searches for the best possible server for you and connects with it in a couple of seconds.
Smart Tunneling
It's another good feature of FastestVPN that allows you to select the route of online traffic of a specific app. But unfortunately, this feature is only available in the iPhone/Ipad version.
Kill Switch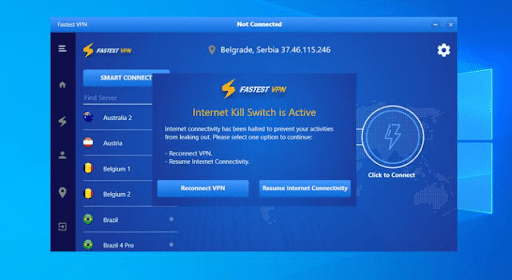 As its name shows, it kills the internet connection of your device whenever it gets interpreted. So, it saves you from exposing your identity.
Adblocker & Anti-malware
FastestVPN offers a built-in ad blocker to tackle disturbing ads on the internet. While they also include Anti-malware however it will not be a powerful protection. Although I didn't experience it working, I guess it is more like an alerting tool that warns you about malicious links.
How to get FastestVPN on PC/MAC
Open the browser and click on the search bar
Type FastestVPN and go to the website
Now move the cursor to the top and click on the App tab
Here select the PC/MAC version and click on the Download app
Once the setup is downloaded, extract the setup and then run it
Now you have to click on agree in order to continue and then click on install.
How to get FastestVPN on Android/iOS
Installing FastestVPN on your android/IOS phone is as easy as pie.
Open the play store/app store on your smartphone
Look for the FastestVPN using the search bar
Click on the install button and wait for the setup to finish
However, if you are having trouble finding the app, there is an alternative way.
Search through the browser by typing Download FastestVPN
Open the first website and select the android/IOS version
Once its download, run the setup and click on the install button
In a few seconds, it will get installed on your device
Sign up for FastestVPN
Once you have installed the VPN on your device, now it requires you to log in to a FastestVPN account. But if you are not familiar with the procedure, follow the below steps:
Just open a browser and go to the FastestVPN site
Click on Buy Now button
Then select the plan
After that, provide the required info like Email and password
Now select the payment method
FastestVPN Pricing
On the pricing side, FastestVPN is really giving a tough time to its competitors. If you opt for monthly billing, it costs $10/month, which is pricey. However, the higher the subscription period, the lower the cost per month.
A 3-year subscription comes with a $1.11/month price tag. You will be billed $2.49/month for a 1-year plan.
What is My Verdict on the FastestVPN Review?
FastestVPN is becoming a significant player in this competitive market. They are offering a long list of servers, very affordable prices, strong security, and a no-logs policy. But its speed inconsistency when connected with distant servers is somewhat annoying. Honestly, for everyday users, FastestVPN is a viable option.