How to Get Unbanned From Omegle (5 Ways)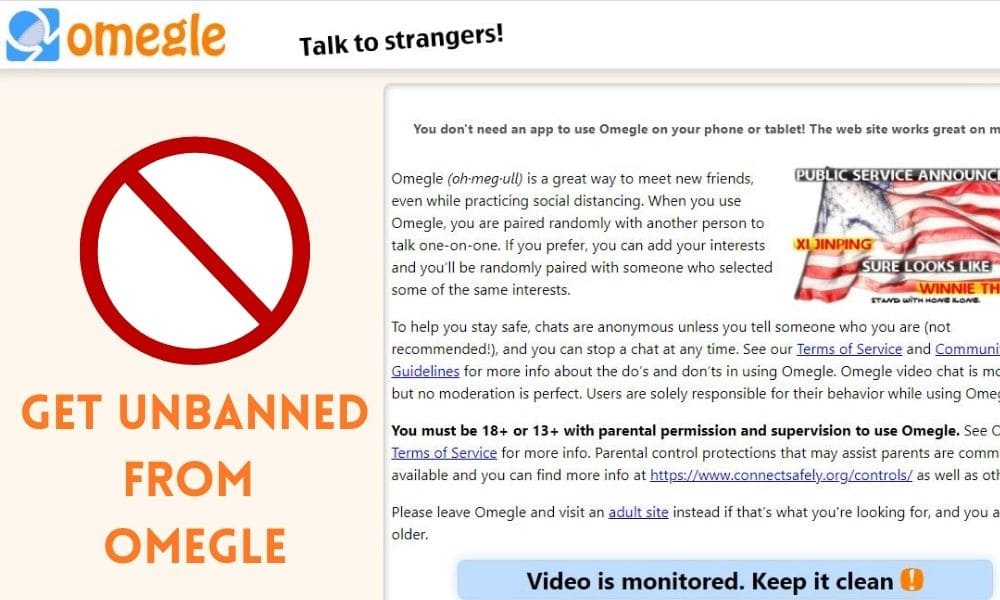 Who doesn't like chatting and having fun with strangers on the internet in front of a camera? Omegle generally bans many people for general reasons. To know why Omegle bans and how to get unbanned from Omegle. Read this article.
What is Omegle?
Omegle is a web application that allows people to chat and do video calls for free. Omegle is most used by those who want to make new friends from all over the world.
Omegle was launched in the year 2009 and its created by an 18-year-old guy named Lief K. Brooks. It is a chat platform, and it's not like Facebook and Instagram; it's different; here, you don't have to create an account, and you don't have to add friends or follow. With one click, you can connect to strangers for video calls and chat.
Why Omegle Bans Users?
As Omegle has its terms and conditions, you must follow their terms. Why Omegle Bans? Well, there are several reasons you got banned from the Omegle chat platform.
Here are some of the reasons that you may get banned from Omegle:
1. Constantly Clicking on the "Stop" Button
The stop button is used to stop the video call or chat. If you connected with any stranger and clicked stop to end the conversation for that same repeatedly stop, it may affect your IP address, and you may get a ban.
If the identical stranger connects you and they click stop and end the chat, that is also one reason you may get banned from the Omegle chat platform.
2. If Someone Reported you Intentionally
On every app or website, you can see an option of report or block. On the same Omegle app and website, you have a report option. If some strangers click on the report option on your IP address, you will get banned from your IP address.
Generally, some people don't behave properly. They start teasing and doing nasty things on video chat. When that call goes on, the other side stranger will click on the report button.
3. Violation of Terms and Conditions of Omegle
As we know, terms are conditions are like rules that we follow. If you don't follow the rules, you will get a kick and be out.
On Omegle, you can read terms and conditions on how to use Omegle; if you don't follow as per the conditions of it, you will get a ban.
While you are on a video call and listening to songs or watching movies or any videos, and if you show that in a video call, you will get banned because it's a copyright thing.
How to Get Unbanned From Omegle
If you get a ban from Omegle, there are some solutions to unbanned Omegle.
Getting unbanned from Omegle is a big thing because it bans users' IP addresses, so here you have many options to change IP addresses and use Omegle again.
1. Use VPN to Unbanned from Omegle
Using VPN (Virtual Private Network) is the best opportunity to unbanned Omegle and other platforms. It used an IP address as a helpful reference.
A cyber specialist mainly uses VPN to find out cybercriminals, and some use VPN to save their information from cyberstalkers. VPN is a part of cybersecurity, and some use it for an excellent purpose, some for immoral purposes.
As Omegle bans user IP addresses, if you want to unblock your Omegle, you have to change your IP address, which is banned, and use the new IP address to use Omegle – Talk to Strangers.
With the help of a VPN, users can change their IP address as they want; if you are in Montreal and you have to change your IP, which is located in New Jersey here, you can do this.
VPN is mostly not available for free to use VPN services; you have to buy a VPN from service providers. Also, some VPNs are available, but we don't recommend using a free VPN.
Here are some of the best VPN service providers that give good service without the hassle.
ExpressVPN
NordVPN
Surfshark
ProtonVPN
IPVanish
2. Use Proxy Server
Use a proxy server that helps you connect to Omegle even if you are banned. It means when you use a proxy, Omegle can't find your IP address, and it thinks you are a new user, and till now, you didn't get a ban.
A proxy acts as an intermediary between the user and Omegle. When a user searches for any query using a proxy, that landing webpage doesn't know about the user, and they only know about proxy servers; this is how you can use Omegle even if you are blocked or reported.
If you don't know how to use proxy on the computer, read this blog to learn about proxies servers and how to use them.
3. Wait for a Couple of Months
Yes, you have to wait for several months or days to gey unblock from Omegle. If you don't want to use VPN or Proxy server, you have to wait for 120 days.
The pixelprivacy blog says the Omegle ban will be available from 7 days to 120 days. So you have to wait for several days to get the green light from Omegle Talk to Strangers site.
4. Go for New IP Address
If you want new IP, you have to connect with your internet provider, ask them for a new IP address , they will provide you if they any alternative option of availability, and possibly be sure they will provide you. If you don't know how to know your IP address, ill let you know that: Go to your google chrome browser and search "What's my IP." The result will appear with an IP address like (http://144.153.167.198/). 
You have other 4 alternatives about how to get unbanned from Omegle, if you didn't get our from this fourth option.  
5. Get a New Internet Connection
If you want to use Omegle and you don't want to wait for 120 days and are not interested in VPN and don't know how to use proxies. Then you have another alternative option: go for a new network connection and apply for a new broadband connection to get a new IP.
You can open your Omegle, start video calls, and chat with strangers when you get a new IP.
But this process costs you a lot because new internet connections cost more.
Omegle app and website have the same terms and conditions, so read terms and conditions and enter the start button. 
The age group from 13 to 18 has to take permission from their guardians to use this Omegle app or website. On Omegle, it mentioned that Video is monitored, Keep it clean. So people try to keep it clean. 
Conclusion: So that's all we mentioned five alternatives options to unblock your Omegle. If you are reliable and don't do anything against Omegle, you will not ban; if you do unwanted things, you will surely get a red light of the ban on your IP, and you can't use Omegle.